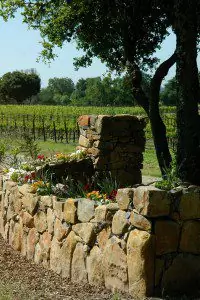 It is in the beautiful Wine Country of the Sonoma and Napa Valleys that the California wine industry was born and where winemakers today produce outstanding wines that compete with the best the world has to offer.
Sonoma
Grapes and wine have been an integral part of Sonoma County's history. As early as 1821, Russian colonists planted grapes at Fort Ross on the Pacific Coast. In 1855, Count Agoston Haraszthy, considered "the Father of the California Wine Industry" purchased a vineyard in Sonoma and renamed it Buena Vista. He brought 100,000 cuttings of prize grape varietals from France, Italy, and Spain and began producing fine wines. He truly founded the California Wine Country that we know. Today Sonoma is home to over 190 excellent wineries.
Sonoma Valley was inhabited by Native American tribes long before the Spanish influence began.  The tribes included the Miwok, Pomos, and Wintuns who found the fertile valley a perfect place to live with fish in the creeks, wildlife in the hills and rushes for intricate basket weaving.
The Mission San Francisco Solano de Sonoma was founded on July 4, 1823 under the direction of Padre Altimira.  It is the last and most northern of the famous 21 Franciscan missions along the California coast.  In 1836, General Mariano Vallejo laid out a grid for an 8 acre Plaza adjacent to the Mission turning the area from a mission town to a Mexican style pueblo.  Today the Plaza is lined with charming shops, popular restaurants, cheese vendors, and wine bars – all surrounding the wonderful old adobe buildings Vallejo built.
Napa
The Native American Wapoo Tribe lived peacefully in this stunning valley until it was settled by the Spanish influence.  Under Mexican, Californian, and ultimately United States rule, many changes occurred in the Valley.  George Yount was one of the first Europeans to settle the Napa Valley, and the first to plant grapes, declaring, "In such a place, I would like to clear the land and make my home; in such a place I would like to live and die."  It wasn't until 1858 that wine was produced commercially, when Charles Krug began to grow grapes and make wine.
The rest, as they say, is history. Today Napa is the heart of the California Wine Country and home to more than 220 wineries. It is truly a mecca for wine lovers.  From the cult cabernets being grown in the mountainous regions of Howell Mountain, Spring Mountain and Diamond Mountain to the famous appellations of Stag's Leap and Rutherford, the Napa Valley has it all.  Its appeal has drawn movie stars, business moguls and passionate winemakers to purchase land and make wine. Along the 30 mile valley are the towns of Oakville, Yountville, St. Helena, and Calistoga–each with outstanding restaurants and rural charm.