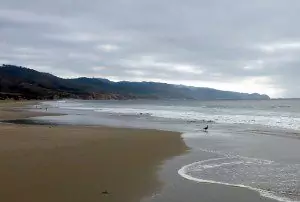 The cultural history of Point Reyes reaches back some 5,000 years to the Coast Miwok Indians who were the first human inhabitants of the Peninsula. Over 120 known village sites exist within the park. According to many experts, Sir Francis Drake landed here in 1579, the first European explorer to do so. In response to the many shipwrecks in the treacherous coastal waters, key lighthouse and lifesaving stations were established by the United States Government in the late 1800s and early 1900s. In the early 1800s, Mexican land grantees established ranchos. They were followed by a wave of American agricultural operations, which continue to this day in the Seashore's pastoral zone.
Today the landscape is still very rural and agricultural.  The cows dotting the hillsides produce milk that makes some of the best artisan cheeses in the United States.  Renowned for its organic farming, West Marin, where Point Reyes is located, has been a model for the world – in 2006 Prince Charles of England made a stop to study the farming. Tomales Bay itself is the best oyster producer in California with restaurants vying for the sweet shellfish.
Point Reyes National Seashore hosts many trails for hiking, biking, and horseback riding with sweeping views of both Tomales Bay and the magnificent Pacific Ocean.  The coves and beaches are full of vibrant tidal life and seals can be viewed from the cliffs.
The towns of Olema, Inverness, Point Reyes, and Marshall maintain a rustic Western charm, it is easy to visualize the wild west of the "Gold Rush of 1849" when you see the wooden buildings.
Related link: