Named by a Spanish explorer for the little willows (saucelitos) growing along its shores, Sausalito was settled in the early 1800s by sailors, whalers, and shipbuilders.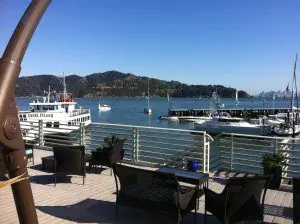 Today, you can stroll along the water and watch the sea lions cavort, rest in the plaza and listen to the splashing fountain, soak up the ambiance in the many open air cafes, browse through the unique boutiques, and check out the marinas. There are many well groomed hiking and biking trails, as well as easy access to Muir Woods and Mt Tamalpais.
Sausalito hosts a thriving artist community, so it's not surprising that the town sports several world-class art galleries and is the home of the #1 outdoor fine-art fair in the nation. The Sausalito Art Festival takes place every Labor Day weekend.
Related link: